The Sky Deck, an open-air rooftop observation deck 270 meters above sea level is the setting this year up for a variety of special springtime cherry blossom viewing events, entitled "Cherry Blossom Viewing in the Sky 2022: Enjoy Cherry Blossom Viewing on the Sky Deck." As visitors look down from the Sky Deck, the cherry blossom crossroads at the Aoyama Cemetery below are a sight to behold. Furthermore, you can also enjoy a very special 360-degree view of Tokyo's cherry blossom viewing spots from the sky, including the spectacle of Yoyogi Park and Shinjuku Gyoen awash in cherry blossom pink.
* Closed in bad weather condition.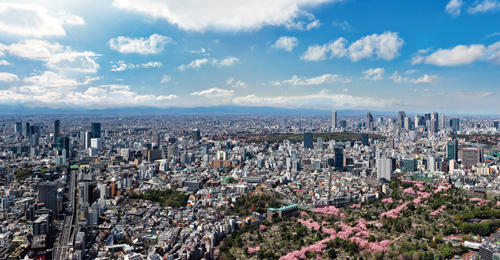 Period

Saturday, March 19 - Thursday, April 7, 2022

Hours

11:00-20:00 (Last Admission: 19:30)
* Hous extended to 10:00-22:00 from Saturday, March 26 (Last Admission: 21:30).
---
The "Cherry Blossom Viewing in the Sky 2022": Special Setting for the Spring Feel
Special setting with photo-shooting spots will be available to make your cherry blossom viewing experience even more lively!
A special setting to enhance your mood for cherry blossom viewing, along with a spring photo spot decorated with cherry blossoms will appear near the entrance to the Sky Deck. Enjoy taking commemorative photos of the "Cherry Blossom Viewing in the Sky" while you take in the breathtaking cityscape from the Sky Deck.
The scent of sakura flowers will put you in the mood for cherry blossom viewing
Inspired by the fleeting nature of cherry blossoms that fall in just two weeks and the beauty of their waning moments after they are in full bloom, the SAKURA fragrance by the fragrance brand "KITCHIBE," will be diffused throughout the Sky Deck elevators and lobby. With this, you can enjoy the "Cherry Blossom Viewing in the Sky" not only by viewing the cherry blossoms, but also by catching the scent of the gorgeous Oshima cherry blossoms.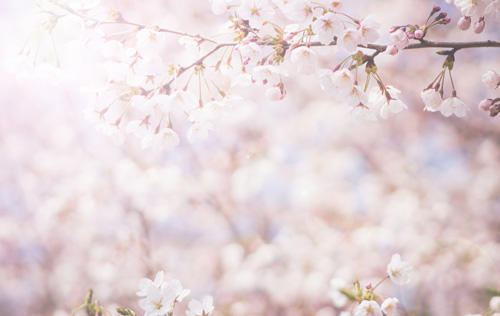 Cherry blossom-scented bath salt gift
After enjoying "Cherry Blossom Viewing in the Sky" on the Sky Deck, visitors will receive a gift of cherry blossom-scented bath salts, to enjoy the lingering memories of their experience while taking a relaxing bath at home.
Available in original packaging, decorated with a springtime illustration of the Sky Deck.
Gifts are offered on each day of the event, beginning at 13:00. Available only while supplies last.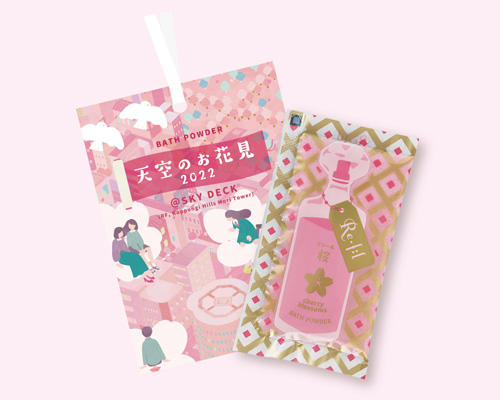 ---
"Tokyo City Debut Campaign" Celebrates the Arrival of New Students, Newly-Hired Employees and New Tokyoites
With the aim of supporting new students, newly-hired employees and those moving to Tokyo this spring, Tokyo City View is run a campaign inviting those eligible to visit the facility and enjoy the panoramic Tokyo cityscape.
For

New students, newly-hired employees and those beginning a new life in Tokyo this spring

Details

Send a tweet on Twitter with the following conditions in mind, and apply via the dedicated website. Winners of the invitations to Tokyo City View will be chosen by drawing amongst those who apply.

Conditions

Tweet your aspirations for your new life with the hashtag "#東京シティデビュー" and apply for "Click here to apply" button.

Drawing Prizes

Complimentary invitations sent to 22 pairs of visitors

Application Period

Saturday, March 19 - Thursday, April 7, 2022
---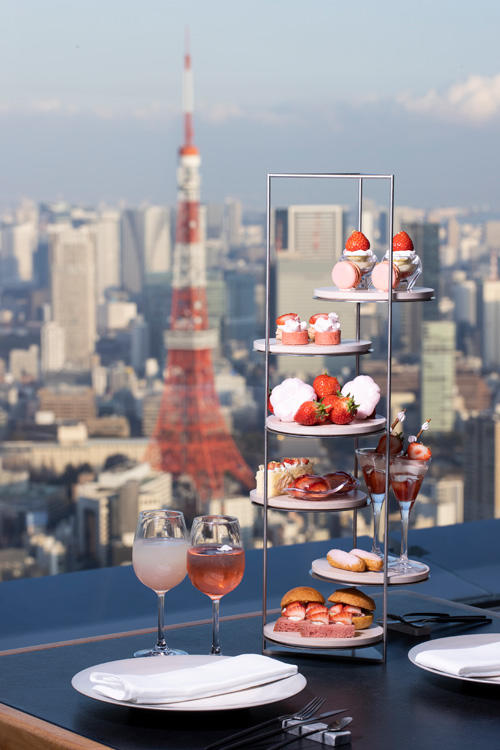 THE SUN & THE MOON restaurant on the 52nd floor will offer a special limited-time menu to help maximize your enjoyment of the spring season. A sakura-themed set entitled "2022 STRAWBERRY AfterMOON Tea - SAKURA" will be available during the daytime. Confections reminiscent of spring that are decorated in cherry blossom colors will be served on a special six-tier serving tray. During the nighttime, patrons will be able to enjoy "2022 MOONLight High Tea - Spring," featuring food with the ingredients and colors of spring. In addition, original spring-inspired cocktails will also be available! Enjoy this special set of menu offering the exquisite experience of cherry blossom viewing in a space that's truly out of the ordinary.
* Please see here for details. (In Japanese-language only)