Combo Ticket of Indoor Observation Deck&Sky Deck to Be on Sale from March 26 to April 7!
2022.3.17 [Thu]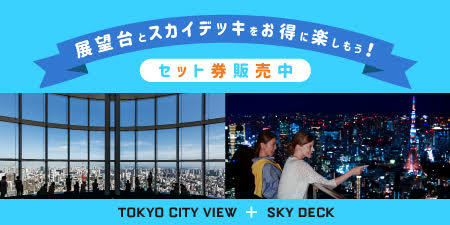 With access of the Tokyo City View Indoor Observation Deck getting partially restricted, combo tickets of Indoor Observation Deck and Rooftop Sky Deck will be on sale for a limited period (valid only for the day of purchase).
Note that the hours of Sky Deck will also be extended during the period.
We hope you will take advantage of this special opportunity to visit both facilities and enjoy them fully.
Period

Saturday, March 26 - Thursday, April 7, 2022

Combo Tickets Valid for the Admission into

Tokyo City View (Indoor Observation Deck on 52F, Roppongi Hills Mori Tower)
Sky Deck (Rooftop, Roppongi Hills Mori Tower)
* Please note we will be partially restricting the traffic into the Tokyo City View Indoor Observation Deck during the period.
Admission
Tokyo City View Indoor Observation Deck + Sky Deck
Weekdays
On-Site
Sat., Sun. & Holidays
On-Site
Adults
2,000 yen
2,200 yen
Students (University/Highschool)
1,300 yen
1,400 yen
Children (Ages 4 through Jr. High)
700 yen
800 yen
Seniors (Ages 65 and over)
1,700 yen
1,900 yen
* There will be no online ticket sales available.
* The Sky Deck may close without prior notification in case of inclement weather conditions including strong wind, heavy rain and lightning.
* No refunds will be made once the ticket purchase is made; including cases where the Sky Deck suddenly closes.
* Combo tickets will NOT be on sale when Sky Deck will be knowingly closed - for severe weather conditions, and/or either of the facilities are to be closed due to an event, etc.
* For those with complimentary admission tickets, discount tickets to the Tokyo City View, please make advance booking for a designated date/time slot on the booking website. For details, please visit here.